Another emotional week for the Meyer family.
Football is over, which is always a bit sad. The week between football and basketball, the boys drift around, wondering what to do with themselves. They love football, they love being with the guys, working hard, playing their hearts out, feeling close to their dad.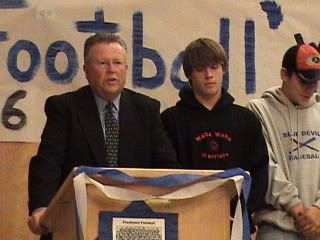 The freshman team ended the season 9-1. It's a group of very talented athletes and it's been so fun to watch them play. What is incredible to me is the strong connection these guys have to one another. They are a team, in the very best sense of the word. Their love and support of one another extends well beyond the field. Watching Zach, watching his teammates, I experience a sense of wonder. It's clearly more than football.
The freshmen had their end-of-the-year celebratory banquet. All the players were introduced, shook the coaches' hands and got their certificates. Zach, being Dave's son, took one look at the coaches outstretched hand and threw his arms wide for a bear hug.
Then a few of the kids presented the coaches with gifts and said a few words. Zach was first to go. He introduced the freshman head coach, Smitty. I recorded it so you can see, but the audio is hard to hear...and the camera work leaves a little to be desired. What he said was, "Well, my mom will be the first to tell you that I'm not much of a talker, but here goes. I had an awesome season. I had the best time ever. And, Smitty, he's one of the best coaches I ever had..." At this point, his voice began to crack. Soon, Zach was crying and the entire place was silent. Finally, he took a deep breath, looked at Smitty and said, "Let's just say, you remind me of my dad." Then Zach leaned into Smitty, who just hugged him. I was so proud of Zach, and as I looked around the room, many people were crying, remembering Dave, sending support to Zach. Another moment in time, etched on our hearts forever.
Last night was the JV/Varsity football banquet. It was Kenny's turn to close out the season. I'm always amazed by the phenomenon that is Kenny and football. He's out there every day, working hard, even knowing that he'll only get to play one or two downs each game. He's a loyal, expressive, vocal fan, cheering and shouting and sometimes groaning from the sidelines. I remember when he first wanted to play football. I thought, "Well, this is it. If he's going to get beat up, this is where it will happen." I prayed for his teammates to accept him, to include him. I prayed he wouldn't feel like an outcast or a burden. I remember watching his teammates help him get his shoulder pads on straight, get his cleats tied, find his position on the field. I watched as after practice, players gave Kenny high fives and slapped him on the back. I watched Kenny simply glow with the feeling of being a part of something bigger than himself. These guys did something more than simply tolerate Kenny; they embraced him, with all his quirks.
The Most Inspirational Player Award on any team is something special. It's voted on by the players themselves. At WaHi, this award has been re-named The Dave Meyer Most Inspirational Player Award. It usually goes to a senior. This year, there were 23 seniors on the football team. Incredible kids. I remember Dave talking fondly about many of them. A couple of them had their DM bands on their picture displays. These kids played with heart all year, so many of them exemplifying that kind of inspirational spirit that Dave showed. And yet, when the recipient was announced, it was Kenny.
Kenny is inspiring in many ways, don't get me wrong. He works hard, against odds that most of us never come close to understanding. He definitely has an indomitable spirit and an unflagging loyalty. But his receiving this award says a lot more about the players on his team than it does about him. It shows their unselfish caring for someone else. They gave Kenny a gift beyond measure, a moment with his dad. And I hope every one of those players realizes how grateful we are and know, in their hearts, that Dave is so very proud of them.
To those players, and to the coaches and staff that led the way, making it possible, thank you.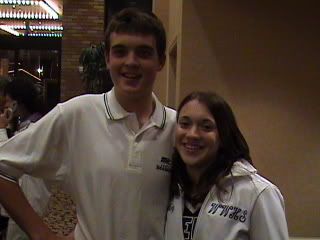 In other news,
Mom, Grandma and Aunt Anita came for a visit. It was wonderful to see them.
Also, thank you to the prayer warriors who continue to pray for little Nicholas. Good news! The last scan shows improvement. They can still see where the lesions were, but they are fading. Praise the Lord!! Keep praying for the Wellington-Baker family.
Yes, the floors are almost done. We would have had it nailed (ha, ha) after the second weekend, but ran out of wood. Here's a photo of the same doorway Duke was sitting in.
Doesn't it look fabulous? And I can run a chop saw, a jig saw, a table saw, two kinds of nail guns and only hit my thumb once. I AM Ty Pennington!
We've also been kind of wrapped up in TwoFace the past few weeks. He disappeared for 4 days, which is very unlike him. He came back and has some kind of neurological problem. They think it's ideopathic vestibular syndrome, which happens to old dogs, but since TwoFace is neither old nor a dog, we don't know for sure. It basically means he looks like he's spent the evening in a kitty pub. He can't walk straight and tilts to the right. At first he couldn't control his tongue, either, but now he's got that down, so he's doing a little better. Time will tell, I guess. The vet said sometimes they get better, sometimes not. He is walking a bit straighter, not just in circles, and he only falls every 5th or 6th step now, so he is improving. It's tough to watch, he's always been such an elegant cat in his tuxedo!