Sunday, January 8, 2006 1:43 AM CST
Okay, first some pictures from the past few weeks, just so you can keep up on what we've been doing.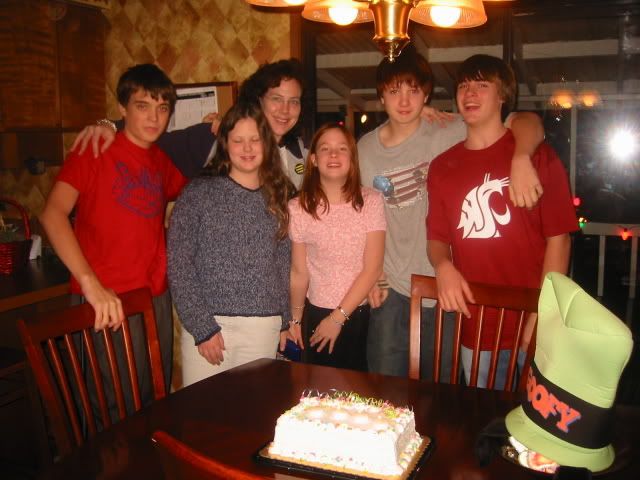 This is Dave's birthday party. It was rather impromtu. We had decided to just spend time together, just me and the kids. But as the day wore on, we decided we had to have a cake. It was a big joke in our family, how we always got a cake, even though Dave didn't really like cake. So we got cake, rented Stripes, Dave's old favorite movie, and a few friends dropped in. We decided to have the sparkling cider that Secret Santas brought.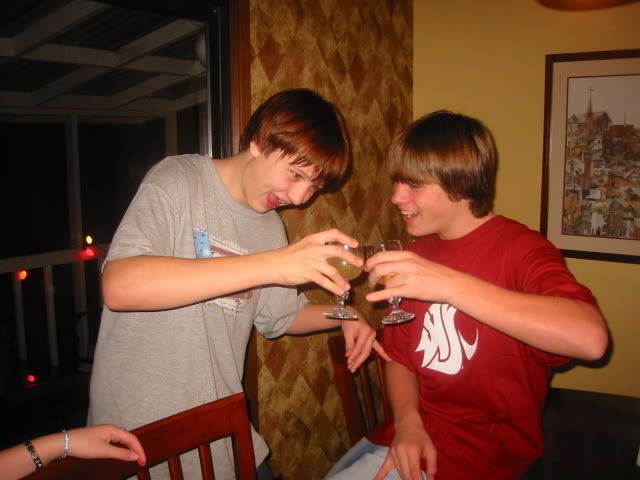 Will and Zach toast Dave.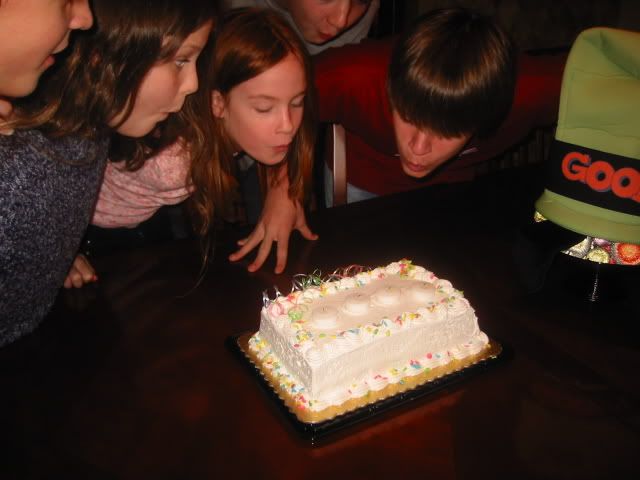 Kenny, Meg, Kate, Will and Zach blowing out the candles.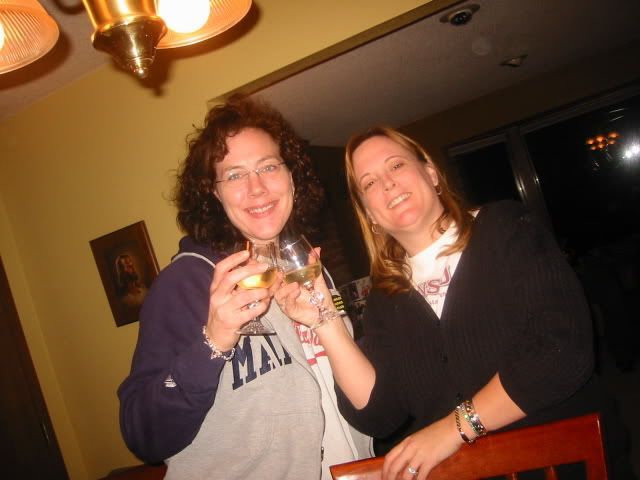 Deb and Shelley, from Kate's slightly lower perspective.
Kenny being, well, Kenny.
We were invited to the Bergstrom Almost New Year's party and the kids made gingerbread houses.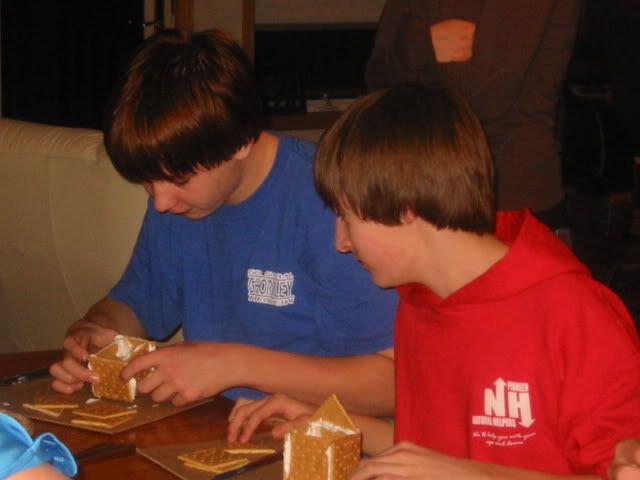 Will and Quinn. Or as Dave called them: "Double D and Q."
Kate and Zach. Notice the Cougar shirt? In this picture, the last one and the next ones. Does he own anything else?
Then today, well, a friend had these puppies....you can guess the rest of the story.
Will, Zach and Andrew...riding in the car, on our way to "just look." Kenny was skiing today, so we knew we couldn't get a puppy, just look.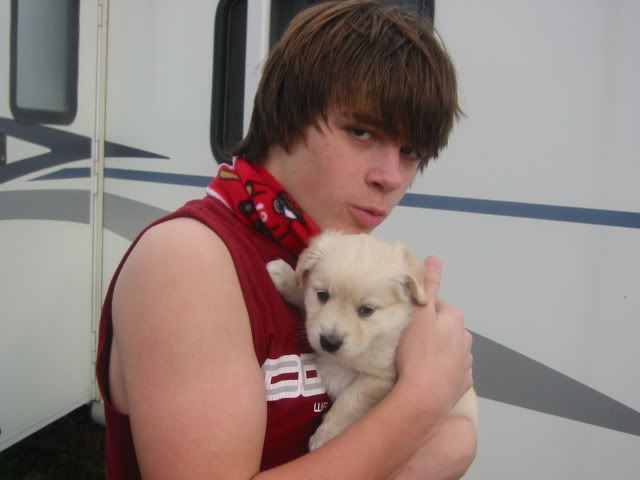 Zach fell in love with every puppy he held.
This is Duke, previously known as Chase. I took the most pictures of him. I must have known.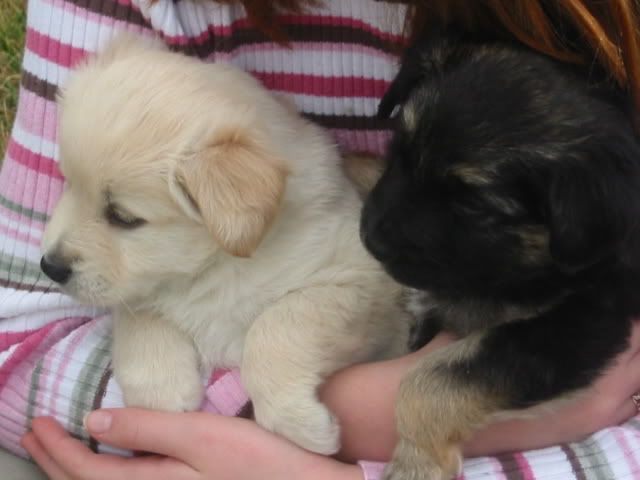 Kate holding Duke/Chase and Ty, the second runner-up.
How could you say no?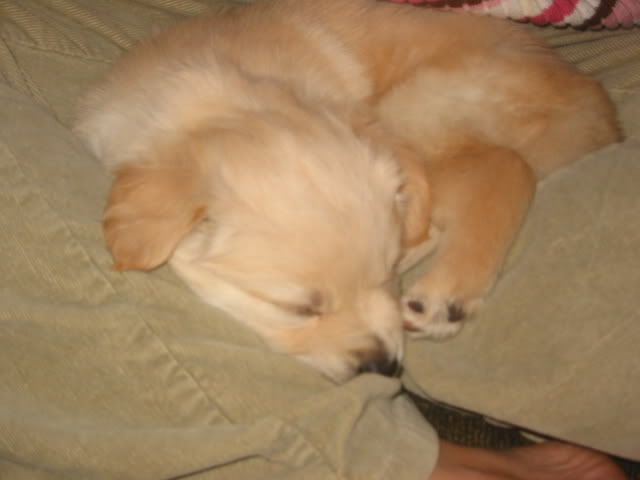 Whew, it's been a long day, and we're all DOG-TIRED!
Ha!
I can't believe I did this.
But if Hailee and Melissa can do it.
And Olivia and Cheri can do it.
I guess I'll survive, too.
I guess I'm not brave enough for the tatoo!
His name is Duke, and he is impossibly, ridiculously cute.
And I promised Sara I'd tell you that he has one sister and five brothers that are just as cute, ready to go to new homes. Her email is in the guestbook!
Thank you, Sara, and also McKenzie, Megan and Mia, for letting us have this little darling. We promise to take good care of him. So far the cats are a little miffed, but mostly disinterested. The puppy looks for his brothers and sister a little, but likes to burrow in Kate's hair, that seems to make him feel happy. He hasn't cried much at all, although he wasn't happy on the ride home. I hope he learns to like riding in the car! Anyway, he's asleep, snuggled up to Z right now. (His name got drawn out of the bowl first.)
PS. Duke may be a Blue Devil, but his collar is Cougar Crimson!
Goodnight all,
Love,
Chelle...craziest woman in three counties!