Yesterday I was so lonely for Dave. He seems so far away and I ache for him. Every little thing reminds me of him and there are so many moments I need him there. So many, many things I want him to see. And while I know, in an abstract way, that he is still there, I miss the connection with him, I miss feeling him near, knowing his heart. I don't know what heaven is like. I don't know whether Dave can truly "look down" on us here. I don't know of any scripture that addresses what kind of connection those in heaven will have with us here, if any. I've written before about how strong my connection with Dave was here on earth...and that I truly, truly believed with all my heart and sould that I would still feel him even after he was gone. But I hardly ever do. I don't sense his presence the way I thought I would.
And yet, Doug, (if you don't know the Doug story, see:
Doug Andrews
and scroll down the page a bit) he seems to be everywhere. I have dreams of Doug, vibrant and alive. The songs on the radio remind me of Doug. I think it's that it's been so hard to find any peace about Doug's death; it's a way of processing all that. My mind returns restlessly to Doug in a way it doesn't to Dave. So anyway, yesterday, in the car, I was driving and crying, reaching out to Dave, screaming with my heart, for him to send me something, anything.
I turned on the radio and this song was playing. The first words I heard were, "When you breathe, I wanna be the air for you." And it was like I was surrounded by Dave. For just a moment, I felt his love wrap around me, hold me close, like he really was in the very air. For a moment, I was very aware of all the many ways Dave is still there for us.
And of course, reality came crashing back down a few minutes later. It was a good moment, but so far from what I want, what I need.
In the meantime, we keep on breathing. Some of you understand how very hard that is. Some of you know how on some days, it's all we can do.
So here's what we'be been up to the last few weeks.
More football. Here's a pic of Kate entertaining the little ones at a game. Thanks, Julie!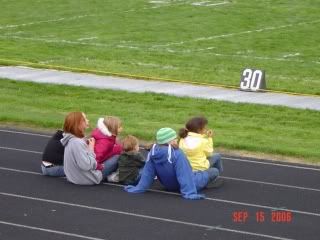 And some of the Zachs, thanks Tawnie!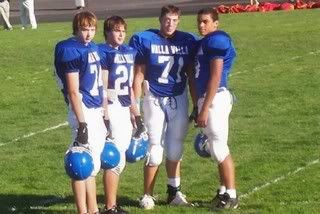 And the team in VICTORY!
Kate is growing up so very fast. She's becoming a young woman before my eyes. In celebration of that, she got her ears pierced. She asked her brothers to come with her and support her. They were so cute.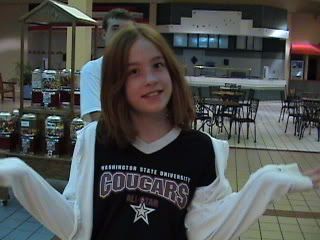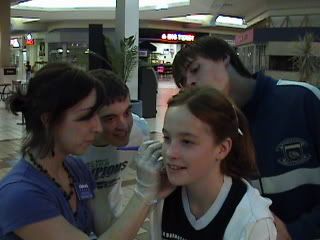 And the other thing...we got new carpet, which involved moving our furniture around a million times, since we had to paint, too, and now we've torn out all the floors in the entry, living room, dining room and kitchen:
So that we can put in new hardwood floors. Denise is on her way as I write, and we'll be working all weekend. I hope to have a beautiful "after" picture for all you diy-ers! Here it is, waiting to go in!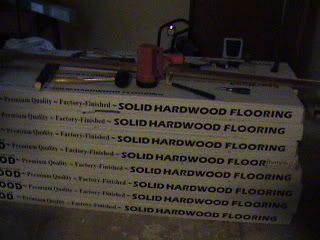 I also put a hit counter on this website, thinking that it might be time to close it down since the comments are few and far between, and mostly from folks I talk to anyway. But it looks like we're getting about 150 hits a day. So I guess I'm not completely talking to myself. Know that I appreciate those of you kind enough to comment more than I can say.
Also, please visit Butch Gamboa's website...see the link on sidebar. He's struggling and they could use all the Team Meyer prayers they can get. His wife, Kara, is an absolute gem. They are young and newly married. This disease is so cruel.
Also, Matt Downey, 30 years old, married only a year, and author of the phrase "No Day But Today," died in October. You can visit his website
here
. I'm sure they would appreciate your kind thoughts as well.
Love you all...

I'll Be There For You by Bon Jovi

I guess this time you're really leaving
I heard your suitcase say goodbye
Well as my broken heart lies bleeding
You say true love, it's suicide

You say you've cried a thousand rivers
And now you're swimming for the shore
You left me drowning in my tears
And you won't save me anymore

I pray to God you'll give me one more chance, girl

I'll be there for you
These five words I swear to you
When you breathe I want to be the air for you
I'll be there for you
I'd live and I'd die for you
Steal the sun from the sky for you
Words can't say what a love can do
I'll be there for you

I know you know we're had some good times
Now they have their own hiding place
I can't promise you tomorrow
But I can't buy back yesterday

And baby you know my hands are dirty
But I wanted to be your valentine
I'll be the water when you get thirsty, baby
When you get drunk, I'll be the wine

I'll be there for you
These five words I swear to you
When you breathe I want to be the air for you
I'll be there for you
I'd live and I'd die for you
Steal the sun from the sky for you
Words can't say what a love can do
I'll be there for you

Solo

And I wasn't there when you were happy
I wasn't there when you were down
I didn't mean to miss your birthday, baby
I wish I'd seen you blow those candles out

I'll be there for you
These five words I swear to you
When you breathe I want to be the air for you
I'll be there for you
I'd live and I'd die for you
Steal the sun from the sky for you
Words can't say what a love can do
I'll be there for you