Wednesday, December 28, 2005 2:36 AM CST
It's after midnight.
It's Dave's birthday.
He would be 43.
He loved pizza and bowling and football.
He loved pie and didn't care for cake.
He loved Reeses Peanut Butter Cups.
He loved the ocean.
He loved hugging.
He loved singing.
He loved his guitar.
He loved Jesus.
And he loved us.
So many times, I've missed him so.
So many times, I could actually see him.
Laughing at Kate and Zach squealing and squirming when picking up pieces of fish to feed the seals.
Helping Zach with his first shave.
Stretching his body, leaning his head back, half-closing his eyes in the passenger seat of the Suburban..."Riding in style, eh, Shelley?"
Buying roses for Kate's dance recital.
Making Darren put on the Santa hat to fill the stockings.
Going with Darren to buy silly, stupid, outrageous, and sweet stuff to put in the stockings.
Putting bows on his head.
Smiling, laughing, the spark of life in any gathering, that was Dave.
We miss him so.
Saw an ad for a movie today. A quote from the movie: "If you cain't fix it; ya gotta stand it."
So we're standing it.
Kate and Amy opening stockings.
Zach and Kenny opening stockings.
Luke and Jake, well, opening stockings.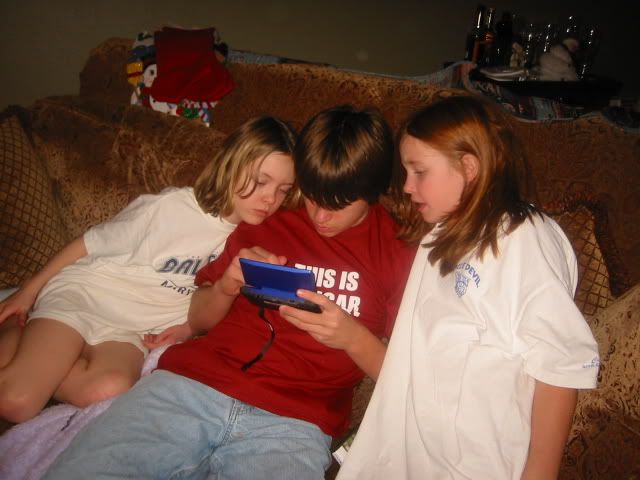 Zach saving the puppy on Kate's new game system.
Getting ready to leave Kelso, in the new Suburban. PS. For Lord's sake! I have my CHEATING shoes on, which add at least 2.5 inches. Those boys are getting too tall!
Kate and Grandpa, we're back in Walla Walla for Christmas part 2!
Annalee, Kate and my new "grandbaby" Kacey.
Standing it.
Love you all, 'Chelle
PS. More photos on photo page. Tomorrow I'm going to try to see if I can find some birthday pictures of Dave through the years. Don't know if I'll be able to pull it off on such a short time line, tho!